As teams move to telecommuting, tools and systems play an increasingly central role in sustaining business. Learn new tricks how to take the full advantage of HubSpot video features or get tips how to boost your webinars to the new heights by utilizing LogMeIn tools. We wanted to share you our favorite telecommuting tools by HubSpot.
Vidyard - video communication brings you closer to your stakeholders
Now that Corona drives everyone to work remotely from home, video is the best channel to maintain a workplace culture and relationships. You may have already participated in remote after work with your colleagues or dared to make a video connection with your clients. Why not also stand out from your competitors email by taking advantage of video in email?
Hubspot integrates with Vidyard, which lets you easily create and add video to your emails. Video hosting and management is normally available as part of Marketing, Sales or Service Hub's Pro and Enterprise plans, but HubSpot just announced that it will offer 1-1 video tools for free for 90 days. This is how they want to support their customers in developing online sales in these exceptional times. Sales team can create quick videos to support customer communications, such as filming a short personalized video greeting to a lead or recording video showing their software product directly from the screen. All emails are automatically linked to a contact's timeline in CRM, allowing you to track the impact of your videos on your networks. To get Vidyard activated, install the Go Video browser plug-in.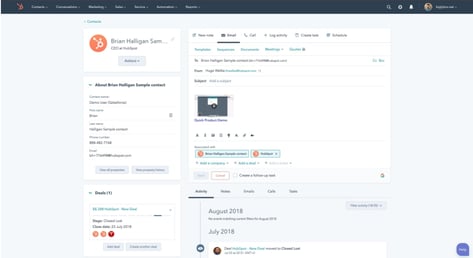 Instructions for attaching a video to email.
GoToWebinar - virtual events into your marketing
If you are using GoToWebinar but have not yet taken advantage of integration between it and HubSpot, do so today. You can import participants from past webinars into HubSpot's database or use HubSpot forms to save webinar participant information through a website. You can create lists according to the status of the participants (registered, present, no-show) and use them to assign contacts to the right nurturing paths and automations. You can also score leads based on event attendee status.
If, on the other hand, you haven't even dared to host a webinar yourself, now is the time to give it a try. Webinars are an effective way to bring your own expertise to the attention of a large audience.

Read more about GoToWebinar integration.
GoToStage - turn the digital footprint of your event to your advantage
Did you know that all your GoToWebinar webinars can also be published on the GoToStage video platform, like thousands of other webinars! This makes them optimized directly for search engines and easy to find. Webinar recordings are gated behind a form. This way you always know who has watched your recordings. You can also easily share the link to your own networks, so you don't have to create a separate campaign page for your video. With GoToStage you can adjust the privacy settings for your videos if you don't want them to be found directly on the GoToStage video platform via the search function.
GoToMeeting and GoToStage are part of the LogMeIn toolkit. Kaks.io is an official LogMeIn partner and we help you rollout and integrate services into your HubSpot.
About us
Kaks.io is a pioneer and leader in the technical development of HubSpot. Whether your needs are a comprehensive rollout, integration, application development or technical study of HubSpot, we are the one to contact. In our work, we utilize the most suitable channels for you, such as Teams or Zoom, so that we can cooperate as agilely as possible. We did this before the corona, so we know what we're doing. So if your current challenges include something slightly related to HubSpot from pre-study to application development, get in touch! Our job is to help you succeed.