With the business increasingly focused on the online environment, HubSpot wants to provide paid tools and functionality to its customers for free. You can activate Meetings, Quotes, E-Sign and 1-1 video features through your own account for 90 days free use. As soon as the tools are available, you will be automatically notified in your HubSpot account.
Take advantage of a selection of paid HubSpot tools for free for 90 days
Meetings: Connect your calendar to the HubSpot calendar app and make appointments easy! The recipient of the link can choose a time from your calendar and book an appointment at the most suitable time for him. You can set certain conditions in the appointment calendar link, such as the possible length of the appointment, how much time you want to leave between appointments, and what days or times you want to offer for appointments. Compared to the free meetings tool, there are now more extensive customization and editing options normally only available in Pro and Enterprise plans. During the free period, customers can create up to 1,000 customized personal or team-specific appointment links with a variety of settings.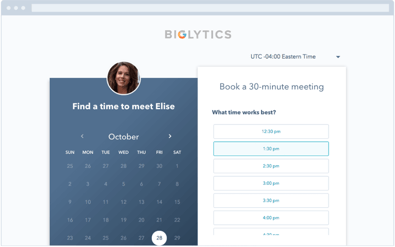 Read more about enabling the Meetings feature.
Quotes & E-sign: You can create professional-looking quote templates directly in your HubSpot account. Respond quickly to incoming quote inquiries and send a standardized quote directly to a potential customer - in seconds. To make it as easy as possible to accept an offer, you can also take advantage of the E-sign feature, which allows your customer to legally accept an offer directly by clicking on the electronic offer and signing electronically. HubSpot now offers the E-sign feature to all customers for free for 90 days from the moment you activate it in your account. The number of quotes is not limited, but the number of E-signed contracts per seller is 10 per month.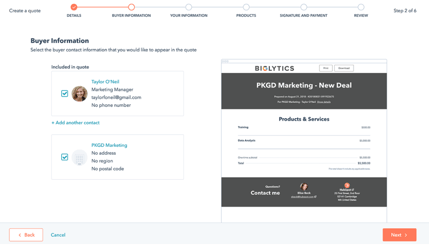 Read more about Quotes & E-sign functions.
1-1 Video Messaging: You can conveniently send 1-1 communications to your stakeholders directly via HubSpot's email feature or from your own email if you have a Vidyard browser extension and HubSpot is linked to your email account. With customized and easy-to-describe video greetings, you stand out from your competitors and build a personal connection to your networks no matter where you are.
Check out my tips how to use personal videos in sale:
More HubSpot calls and emails
As customer relationship management moves to online environments, the number of emails and calls increases with it. HubSpot provides Starter and Professional Sales Hub and Service Hub customers with more talk time and emails for 90-day period. These changes do not require separate activation and are immediately available to you.
Calls: Users have 2000 minutes of talk time per month
Emails: Unlimited emails for Marketing Hub Professional and Enterprise customers for 90 days.
Changes in pricing - also for new customers
If you are just considering subscribing with one of HubSpot's plans, now may be the time to seize the opportunity. HubSpot will offer Starter Growth Suite at a monthly price of approximately EUR 46 for a period of 12 months when the Starter is acquired under an annual contract (normal price EUR 103.5 / month). After 12 months, the price of the starter returns to the normal list price. Remember that Growth Suite is always 25% cheaper than individual hubs purchased separately.
An upgrade option is also available for existing customers. Visit all HubSpot exception reliefs here.
Searching for a HubSpot partner?
Kaks.io is a pioneer and leader in the technical development of HubSpot. Whether your needs are a comprehensive rollout, integration, application development or technical study of HubSpot, we are the one to contact. In our work, we utilize the most suitable channels for you, such as Teams or Zoom, so that we can cooperate as agilely as possible. We did this before the corona, so we know what we're doing. So if your current challenges include something slightly related to HubSpot from pre-study to application development, get in touch! Our job is to help you succeed.