HubSpot's latest addition to its functionality is Operations Hub. This new Hub will enable to run code natively on HubSpot and so much more. Ops Hub creates massive possibilities for companies of all sizes to further automate work, clean data, improve security and simplify their tech stack. HubSpot will provide training for it's Partners soon, but here is a sneak peak on what the Operations Hub has to offer both to a tech HubSpot partner and to a client using HubSpot. This is a big step forward and brings better opportunities to create more strategic, business and technical focus using the HubSpot platform.
What can it mean for a client and technical partners? In short:
less custom integrations

better security

easier and faster deployment
What is it about?
Operations Hub is a new product line from HubSpot. It connects your apps, syncs and cleans your customer data, and automates your business process. It unites your company around a single source of truth and frees your operations team from reactive and repeatable work.
In Operations Hub (or Ops Hub for short), iPaas integration, automation & data quality, business intelligence and data visualization all come together. In this way, Operation Hub combines platform, process automation and tools bringing perspective and insights under one hood.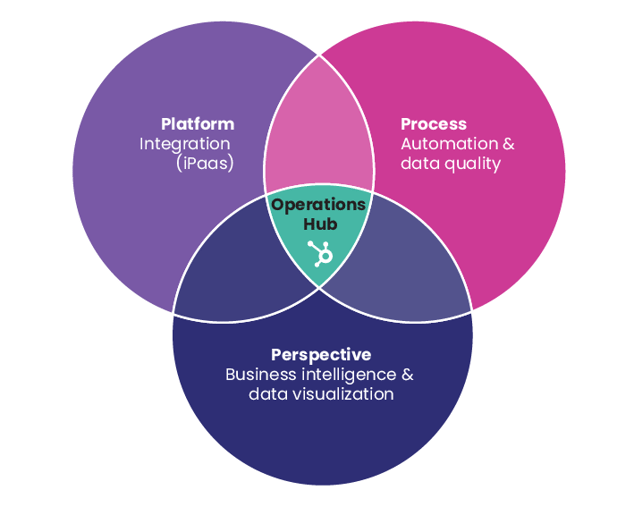 The previous constrictions of separate systems for workflows, reporting and working data on servers outside HubSpot are now a thing of the past. This, however requires a great deal of information and know-how from the partnering technical HubSpot agency: if you are a client interested in this new Hub, make sure you choose a partner agency specialized in technical HubSpot implementations.
Data sync – what's in it for HubSpot partners?
With Operations Hub, HubSpot is using technology acquired from PieSync to build a sync framework that makes integrations work better and allows them to be build faster. What makes them better, is the fact that they are two-way, real-time and customizable. Also historical data can be used with them. The best part: data sync doesn't require any coding from you. You just choose the app, pick which information to sync, and save. HubSpot will talk directly with your other app and keeps things in sync for you.
The first 25 most requested data sync powered integrations are launching in April 2021. Included are e.g. integrations with MailChimp, Microsoft 365 and Zendesk. The entire collection of supported apps can be found in HubSpot Marketplace.
What does this mean to different types of operators?
Using data sync marketing & web agencies can offer clients better segmentation and personalization options to create outstanding marketing and web experiences.
Sales & CRM partners can save time from manual tasks involved maintaining client CRM data and offer services around lead enrichment by syncing 3rd party systems like calling software.
Technical & IT partners can create best-in-class tech stack for clients and bring other business functions into focus within HubSpot.
"This allows technical partners to consider the stack, that for example a SaaS company would normally have." Niklas Vaittinen, Kaksio's Director of US Operations comments. "We can build on top of HubSpot within our solution, a rapid implementation of the said stack. AND, this can be 'mix and match': we can usually have our stack library, that we then pick and choose depending on the client needs inside the SaaS vertical.
For all partners, data sync will bring faster HubSpot setups by importing data faster and help clients save money on 3rd party integrations. All this will save time from manual tasks.
Operations Hub in nutshell for HubSpot Agencies:
No need for complex custom integrations
No middleware needed for custom coded actions
Service offerings simplified for your clients
Reduction of client churn with better client engagements
Simplified workflows that integrate across tech stacks
More powerful workflow extensions with custom coded actions
Automated CRM data enrichment and hygiene maintenance
Improve CMS pages with customized data across multiple Hubs
Simplified renewal process for the clients' current customers to maintain customer base
…And for the customer, then?
From customer point of view, there are myriad of ways to utilize the functions provided by Ops Hub.
First of all, when it comes to Data Quality Automation, new operational actions make it easy to clean CRM data, no more Excel exercises required.
Secondly, with Ops Hub you can automate pretty much anything. "If you dream it, you can automate it" as HubSpot puts it. With custom code actions business processes can be automated with client-specific workflow actions.
With custom code, the need of hosting HubSpot API code in 3rd party systems is removed. Code executes natively in a HubSpot workflow independently if either the data is sent to third party systems or if advanced logic inside HubSpot is being performed.
So how to take this new Hub into everyday use? Use it with renewal functions, lead routing, ticket assignment, data enrichment, cross-object associations, commission calculation or with project IDs and numbering. Or with any other functionality your current tech stack is not quite ready to handle.
Programmable automation
Programmable automation enables you to execute code directly within HubSpot workflows. With the new custom workflow actions, you can quickly adapt your processes to the ever-changing needs of your customers, ensuring that your company runs smoothly as it scales. It encompasses three automated actions in HubSpot:
Note that the latter two actions are not new. They have previously been included in other hubs. With the launch of Ops Hub, webhook actions and custom code actions in bots are now available only through Operations Hub.
With custom code actions, you can create custom workflow or bot actions using JavaScript or any Node.js library. These custom actions can be used e.g. to make API calls, run SQL queries or model objects. API keys can be added as secrets, which ensures that they will be encrypted and safely stored in HubSpot. Secrets can be referenced by any other custom code actions in your account.
Data Quality automation
Dirty data can ruin a customer experience. With data quality automation, cleaning data is automatic. A new set of workflow actions format property values in certain ways: capitalizing letters, fixing date properties, updating phone numbers and more.
The new data formatting actions can be added to your workflows, too. Create or edit an existing workflow, turn it on and the data quality automation will take care of the rest.
Pricing
Great news: you can start for free! The Free packaging includes two-way data sync, default field mappings and all 3rd party integrations for the ecosystem.
With Starter package, also custom field mappings are included for 50 dollars per month.
With Pro you get, in addition to the previous features mentioned, programmable automation (custom coded workflow and bot action possibilities and web hooks), data quality automation and additional portal capacity with the addition of 3000 reports, 300 dashboards, 100 lists and 100 workflows. All for 800 dollars per month.
Also inquire the new CRM suite bundle, which will replace the Growth Suite discount: CMS and Operations Hub will be included in Growth Pro licence package.
"The new Hub bundle replacing Growth Suite is good opportunity. Supports well also the RevOps approach." says Aleksi Lehtola, Kaksio's Chief Growth Officer. "In technical sense, now you can do things that before were opportunities only using external apps. In addition to this, there are all the new integrations possibilities. If these points describe your current tech stack, the Operations Hub is definitely worth investigating."
Still to come
However, as any new development of this magnitude, the Operations Hub still has some developing to do. At the moment, there is no API for dashboard, conversations, sections, filters, conversations and the contacts workflow engine is different from the engine used by the other workflows.
But the good sides outweigh the negative in a heartbeat, since (almost) everything you were not able to do in HubSpot is now available to run on your own very own server within the HubSpot ecosystem.
Any questions? Feel free to ask us! We have all the skills need to make your business thrive. Book a remote meeting time or drop us an email and join the businesses who trust our team of experts today.