It's time to go through the last HubSpot updates of the year. Although during the fall we've seen HubSpot releasing bigger upgrades, such as Custom Objects, there has been tremendous development for the less hyped up module as well: HubSpot Ads! November serves us one of the most exciting advertising updates, Ads Sequences. You can create a chain of ads for advertising, which the system will automatically target to the audience you choose, depending on the stage of the buying journey they are currently in (attract, convert, close). Read more about Ads Sequences on this month's HubSpot updates blog.
Marketing Hub & CMS Hub
Ad sequences
What it's all about: A new ad tool in public beta that lets you create a pre-pathed ad campaign for the audience you want. You create content for each of the purchase path stages, attract, convert, and close, and the content recipient sees changes along the way they react to the ads in the sequence.
What are the benefits: An extremely interesting new advertising sequence feature automates marketers' work in targeting advertising to leads at different stages. The content path can be structured as follows: a blog post is selected as an attract content. For this first step, a low-threshold "throw-in product" is selected to arouse the interest of a contact who has not previously heard of your product or service. The goal is to get the contact to engage with your ad. When a contact interacts with the first content, he then moves to the next advertising stage (convert) where the goal is to identify the contact. The content can be some downloadable content or even a webinar registration. Once a contact has left their contact information, he moves to the last stage of advertising (close), where the aim is to confirm the contact's purchase decision. In this stage the content could be, for example, an offer related to a product / service, a contact request form or a reference video. Currently, ad sequences can only be targeted from HubSpot to Facebook (and with it Instagram). We warmly recommend you to explore and try!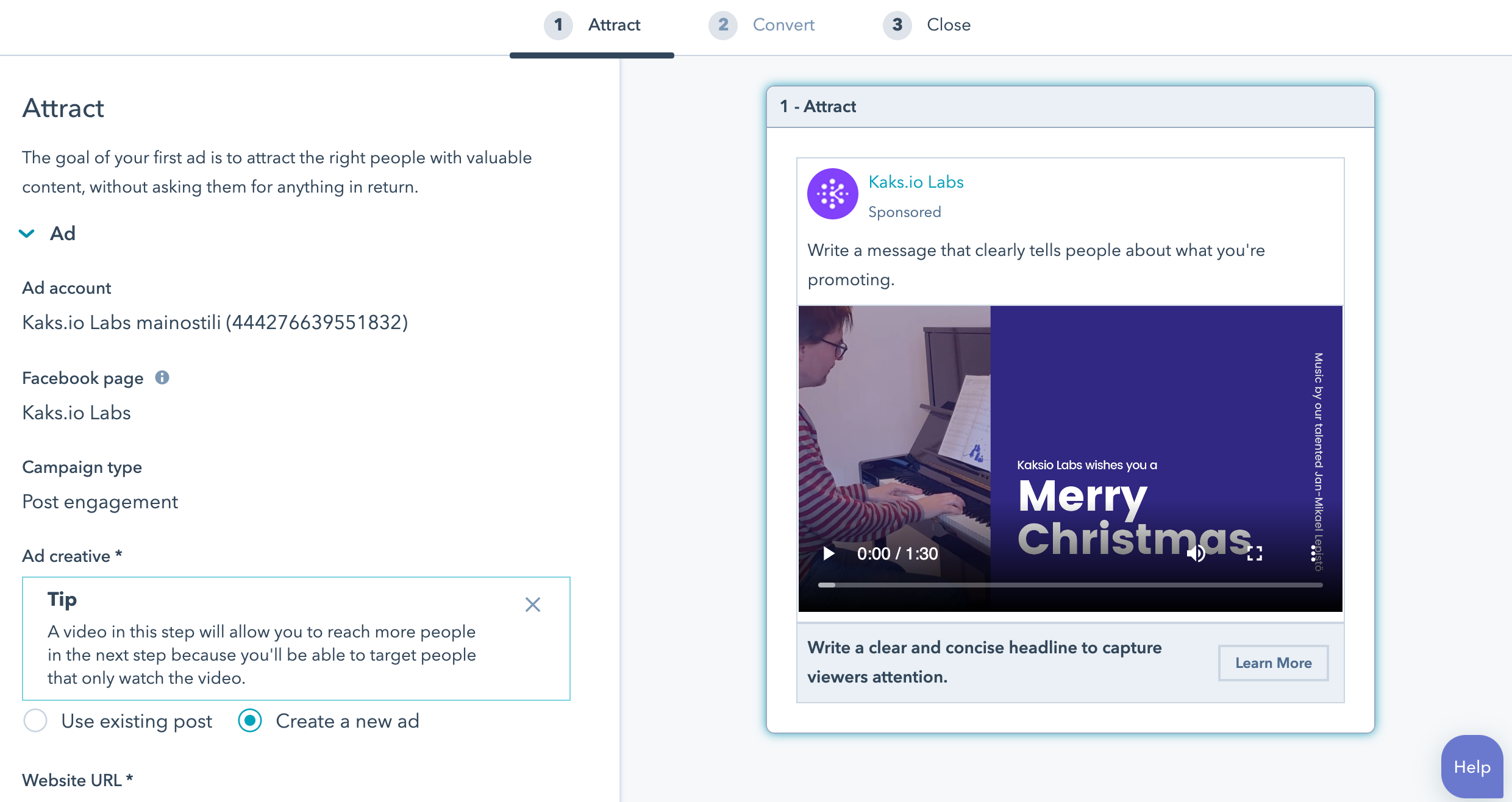 Commenting on forms
What it is about: You can leave an internal comment on the form for other team members and tag other users in these comments. In the editor, click on the "action" menu in the top corner and select the comment window. You can add comments, tag users, and edit and delete comments you post.
What are the benefits: Finally, commenting is also possible with the forms! In previous blogs, we've talked about how internal commenting is possible in workflows and email editors. If you haven't noticed yet, you'll find targeted comments and notifications for you in the top right corner of the view below the bell icon. HubSpot wants to develop their system to better support team collaboration in the future. The development of internal communication is, of course, an important part of the journey.

Google Search Ad Campaign Creation
What is it about: You can create Google Ads keyword-targeted campaigns directly through HubSpot's Ads module.
What are the benefits: As we praised before, the features for advertising are growing rapidly! Unlike Ads Sequences that offers completely new opportunities, keyword ads are virtually the same campaigns you can run directly in the Google Ads interface. The downside is that keyword ads created through HubSpot advertising have slightly more trimmed features. For example, audiences, i.e. target groups, cannot be created directly from HubSpot. As advertising functionalities expand on Facebook, LinkedIn, and Google HubSpot provides an easy and clear way to implement and manage advertising through a single system. If you want to implement more complex ad campaigns, I recommend sticking to the native Google Ads interface for the time being.

Sales Hub
New forecasting tools
What it is about: New forecasting view under Sales tools. The Forecast view brings together targets set for the sales people and results of how much of these targets have been reached with deals closed so far. The view also brings together the open deal value in the deal pipeline and the total value of the most likely to commit deals. The view can be filtered by team, pipeline and even by different time periods (quarter / year so far).
What are the benefits: The Forecast view brings the much-needed clarity to managing team goals and looking at the bigger picture. In the overview, you can the whole team and by clicking on the name of an individual user you get an even more detailed user-specific view (Picture 2). From this user view you can see a more detailed listing of all the deals for that user. User-specific goals can be edited and set from settings under "goals".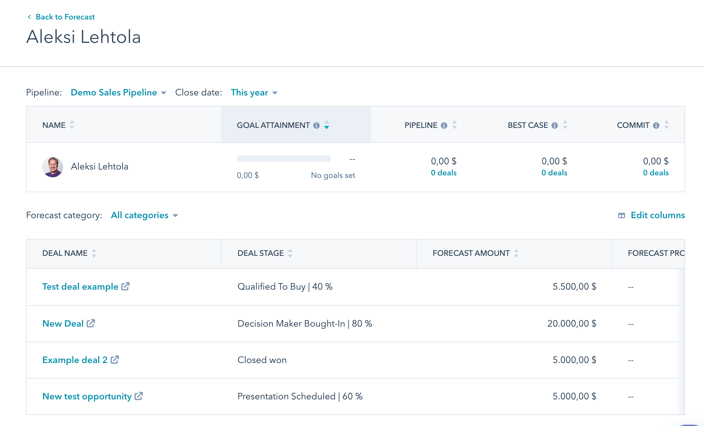 Google Meet app by HubSpot
What is it about: You can add an automatic Google Meet link to appointments booked through Meetings.
What are the benefits: Zooming, Teaming and Meeting are here to stay. You can add a condition in the Meetings calendar settings that automatically creates a Google Meet link when a contact makes an appointment through Meetings. This feature reduces the unnecessary manual work and ambiguity that can result from manually updating and posting a link. If you want to handle different appointment types differently (ie. product demos, sales meeting, customer care meeting), you can safely just add the automatic remote appointment link just for all product demos, for example, if they are always implemented remotely.

Service Hub
Choose from multiple email footers in feedback surveys
What it is about: You can select the footer you want for feedback survey emails.
What are the benefits: Create more personal and customer-oriented communication right down to the footers. In the future, you can select the most suitable email footer for the feedback survey messages. Footer options are created in Emails in your account settings, where you can add footers based on, for example, different office locations. Footer options appear on the editor's survey tab under advanced settings drop-down menu, as shown.

All Hubs
Add contacts to a GoToWebinar with HubSpot workflows
What it's about: Add attendees to webinar events from HubSpot through automation.
What are the benefits: You can conveniently add the HubSpot contacts you want as registered attendees for GoToWebinar. Action can be found in the workflow activity menu as shown. A small new functionality that makes work easier, reducing manual copying between systems.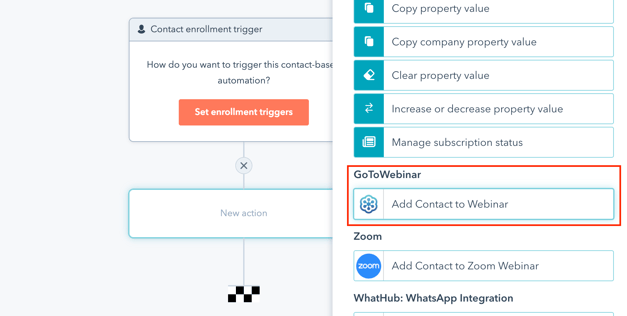 Workflows: you can now define specific dates on which you do not want workflow actions to execute

What it is about: Workflow settings can be used to specify individual days when automation actions do not take place.
What are the benefits: Many public holidays hit weekdays on the calendar. If you want to avoid messages and activities happening on certain days of the year (such as Christmas or New Year), you can do so in your workflow settings. With this new feature, you can focus your communication on those times when people are at their work emails rather than enjoying their holidays.