In this month's HubSpot updates blog post we have brought together information about HubSpot's new CMS Hub Starter license, the new functionalities of Marketing Campaigns page, the new Custom Survey type and the new workflow functionalities, just to name a few. Get familiar with our favorite HubSpot updates of September!
Marketing & CMS Hub
CMS Hub Starter
What is it about: A new Starter license type for HubSpot content management system.
What are the benefits: HubSpot has created a new low threshold license for the content management system. The lowest cost for the starter license is 21 euros per month and it's part of the aggregate CRM licenses. The new license type includes the basic functionalities of the CMS and enables more efficient use of the HubSpot data by bringing the website as part of the digital customer experience. With the help of their partner network, HubSpot has also created new themes that now meet the needs of the starter license users. The themes provide a set up concept for website design and functionalities.
Domains limit increase
What is it about: HubSpot provides now even wider range of domains for Marketing and CMS Enterprise license user.
What are the benefits: Marketing Enterprise now includes one additional domain and CMS Enterprise 10 additional domains. The Business-unit-add-on has commonly served customers with several brands and domains to manage in HubSpot. Now domains can be purchased separately without having to purchase an entire add-on.
New campaign functionalities: Saved views, asset management tools (beta) and ad campaigns on marketing calendar (beta)
What is it about: There are three new functionalities added to the Marketing Campaigns view. You can now filter the campaigns and save them into your own campaign lists, browse all the information related to a campaign in one view and view ad campaigns in the calendar view concurrently with other content. These two latter functionalities are in public beta for now.
What are the benefits: HubSpot is building the campaign tool to be even more comprehensive for marketing teams usage. With the new functionalities it's now easier to manage the campaign related information especially when there's a lot of it. You can filter the campaigns to your own views the same way you filter individual contacts in the contacts view. The new assets campaign tab, for one thing, makes managing the bigger picture of the campaign easier. Now the calendar view becomes even more comprehensive showing you all the campaign related publications, content elements (emails, CTAs, websites etc.) and ad campaigns in just one same view.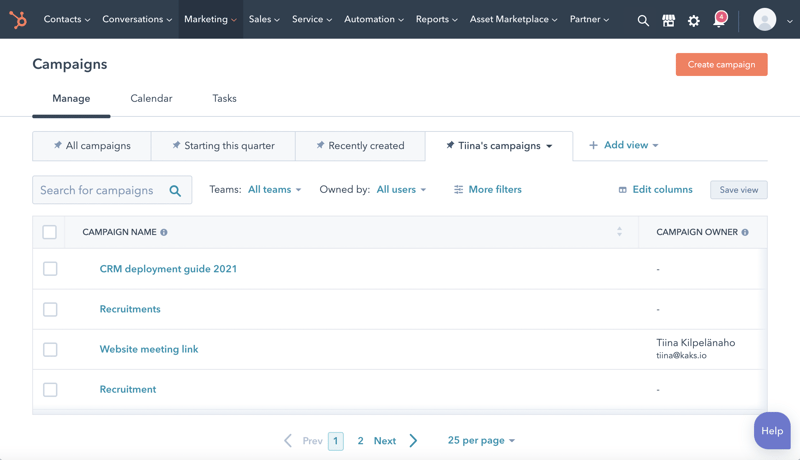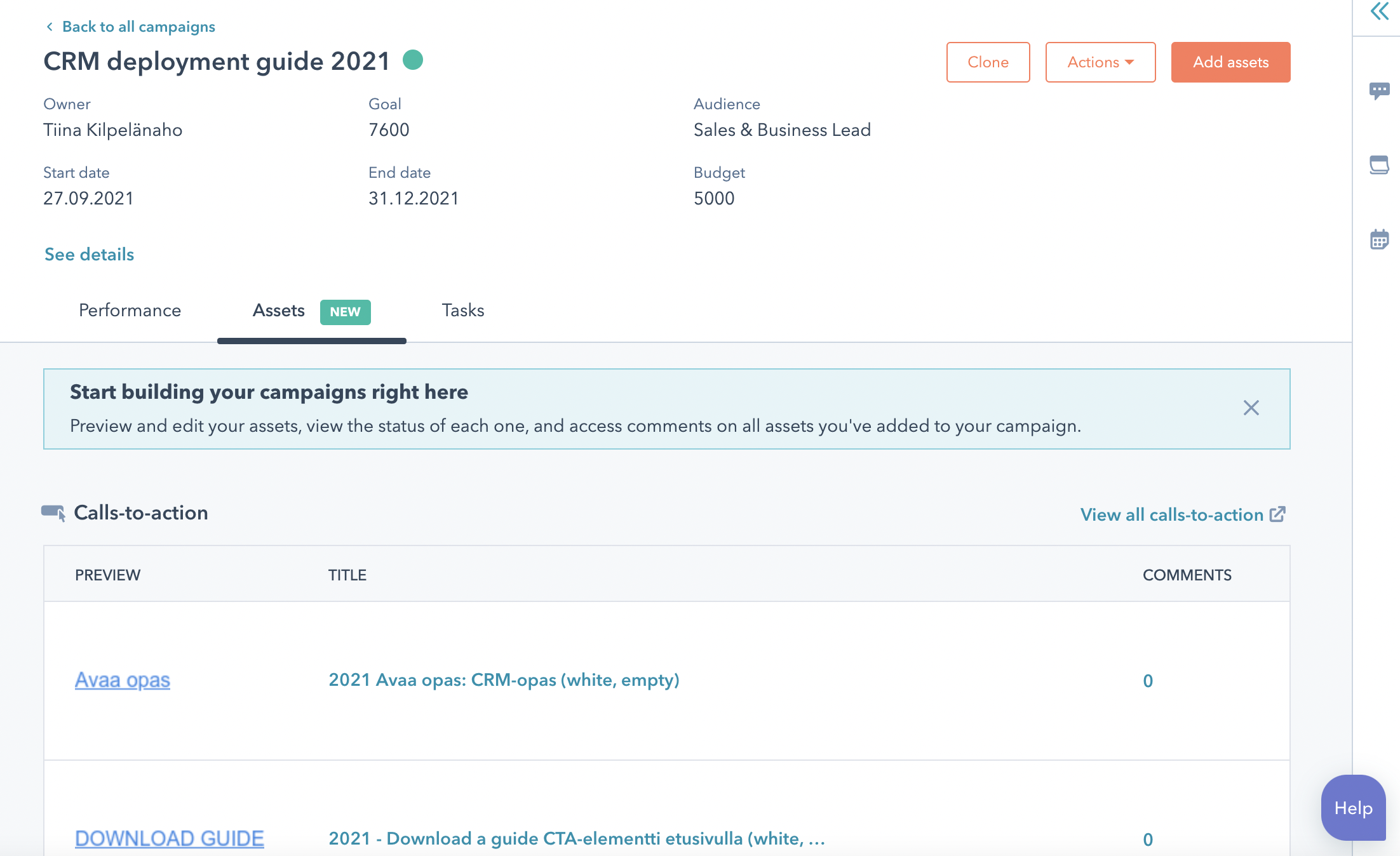 Google Lead Syncing
What is it about: You can now add the leads collected with Google Lead forms directly to your HubSpot CRM.
What are the benefits: You're now able to fully utilize the leads collected with Google lead forms. Move the leads to your automated workflows, contact them by email or target more advertising by creating a brand new targeted ad group in the contacts.
Service Hub
Custom Surveys
What is it about: Create customized surveys with the new Custom Surveys function.
What are the benefits: Finally you're able to create completely customized surveys with the HubSpot Service tools! Until now the somewhat clumsy feedback survey function has been resting on the basic feedback survey types (e.g. CSAT, NPS) but now you can create surveys that support your business in the best way possible. Tip: you can also utilize the custom surveys function in marketing in case you want to ask feedback regarding your downloadable content.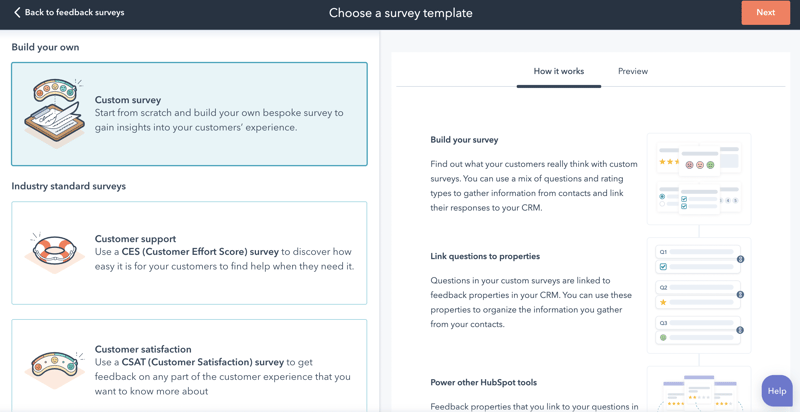 New Setting: Block KB Search Results Page from Search Engines
What is it about: Set Knowledge Base search result summary page as hidden in Google search results.
What are the benefits: There will be an additional setting available in all Knowledge Base pages that blocks search results pages from Google search results. If wanted, the no index setting can be set off but using this new setting is recommended. Please note that the setting does not affect individual Knowledge Base articles coverage in search engine results.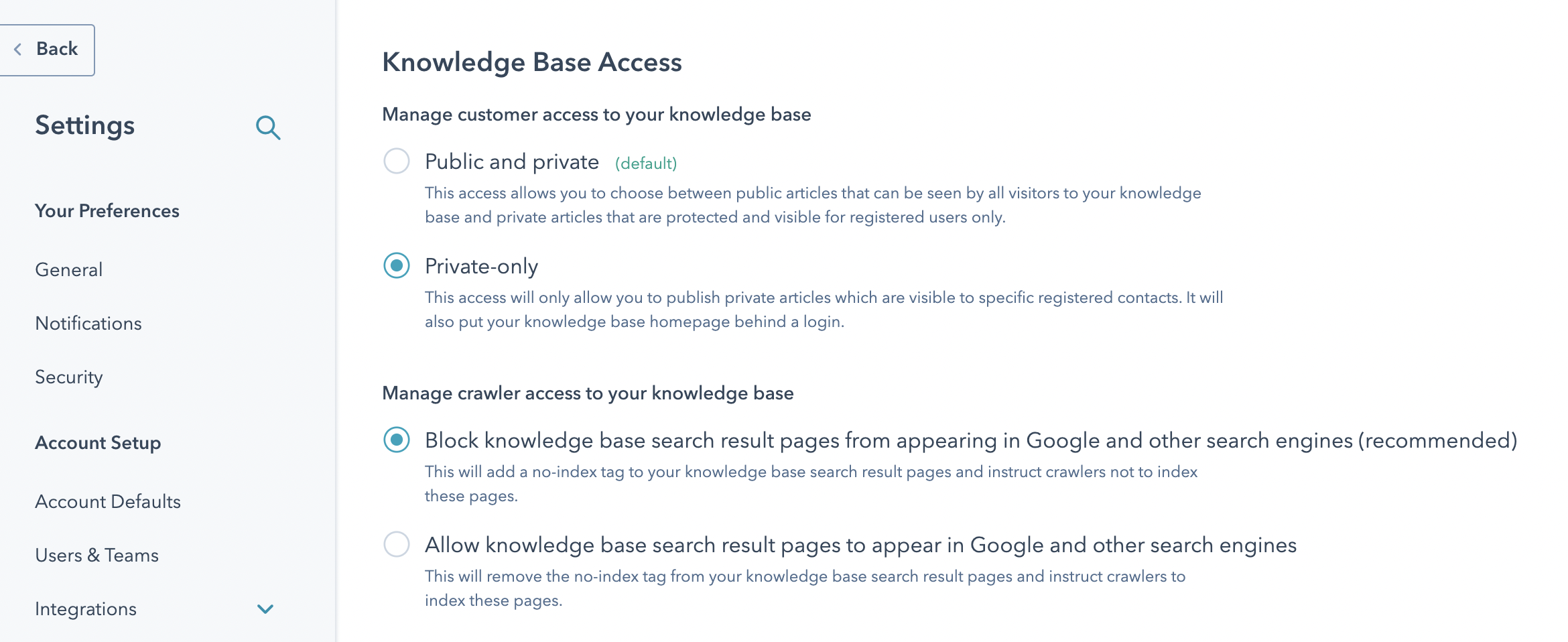 Operations Hub
Eight More HubSpot-Built Integrations with Data Sync
What is it about: HubSpot has once again updated the integrations available for Ops Hub users. Now available also Zoho Books, Vend, Bexio and Zoho Recruit.
Data Sync Now Supports Multi-Account Sync
What is it about: You can now link multiple third party user accounts to your HubSpot account.
What are the benefits: Imagine two individual business units using separate Microsoft Dynamics accounts and you want to bring their data into the common HubSpot account you run. Now it's possible!

Other updates
Create Contacts with Workflow
What is it about: Create new contacts with workflow.
What are the benefits: By clicking 'create new record' in HubSpot workflow you're now able to create contacts, too. This can be useful, for example, when you're creating a reference campaign for your customers, where they can tip you about potential new customers. Just create a new field to the form and ask your customer to fill in the contact details of the new potential customer. Go to 'create new record' and 'email' and attach the field when the system is creating a new contact. You can continue the workflow, for example, so that the contact will automatically be moved to the call queue in the sales task list. How convenient!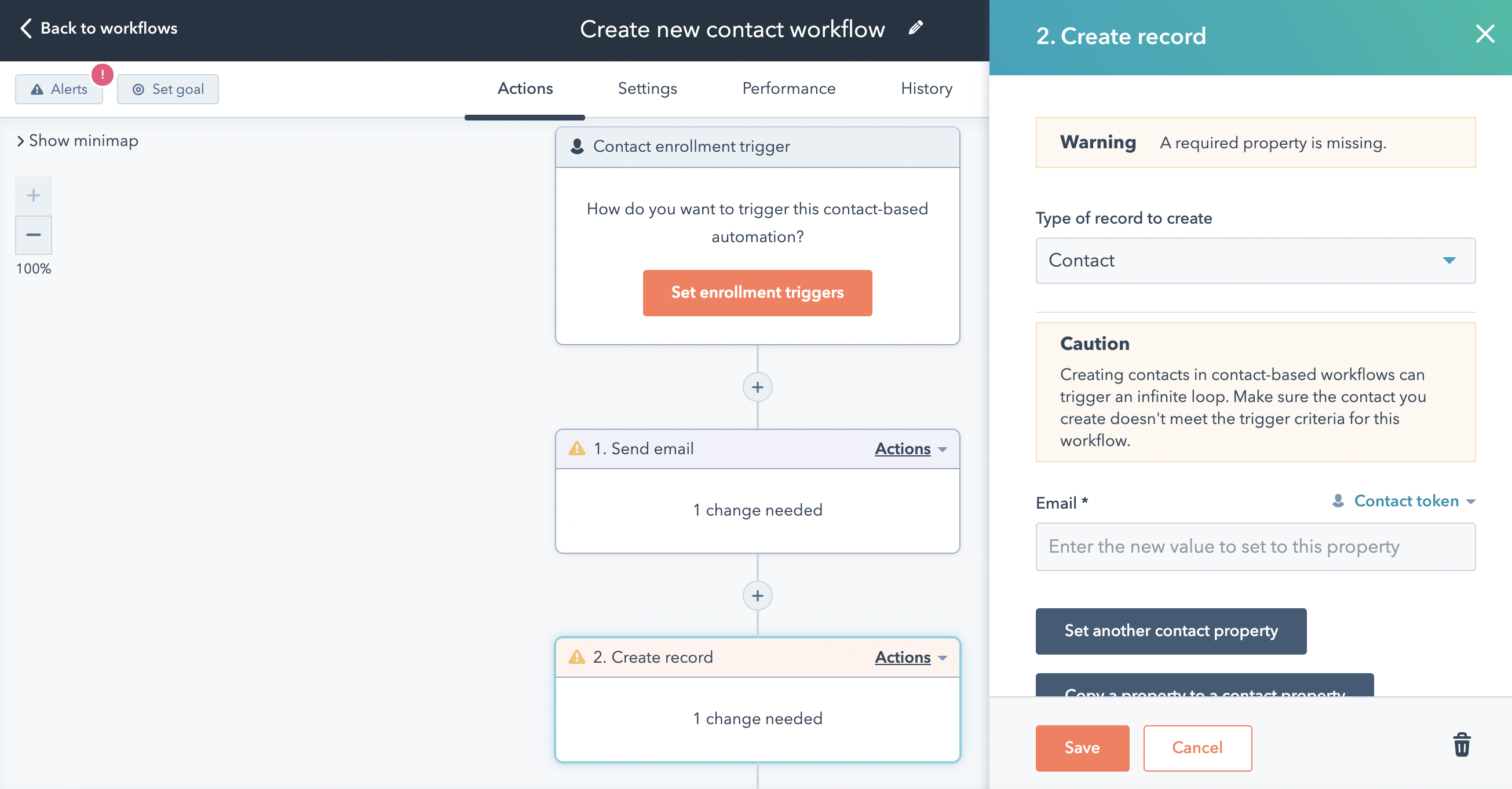 An Easier Way to Draft Workflows with Placeholder Actions
What is it about: You're now able to create a draft of the workflow without having to finish all the linked elements, such as emails.
What are the benefits: This great update makes the daily work so much easier for so many HubSpot users: you're now able to test and sketch workflows even if all the content related details are not finished yet. Before this update you were only able to add an email to the workflow if it was an already published one, for example. Now you can add placeholders to the workflow and finish up the details later. In case there are details that need to be updated in the workflow before the publication, the system will automatically alarm you with a yellow icon in the upper left corner of the actions field.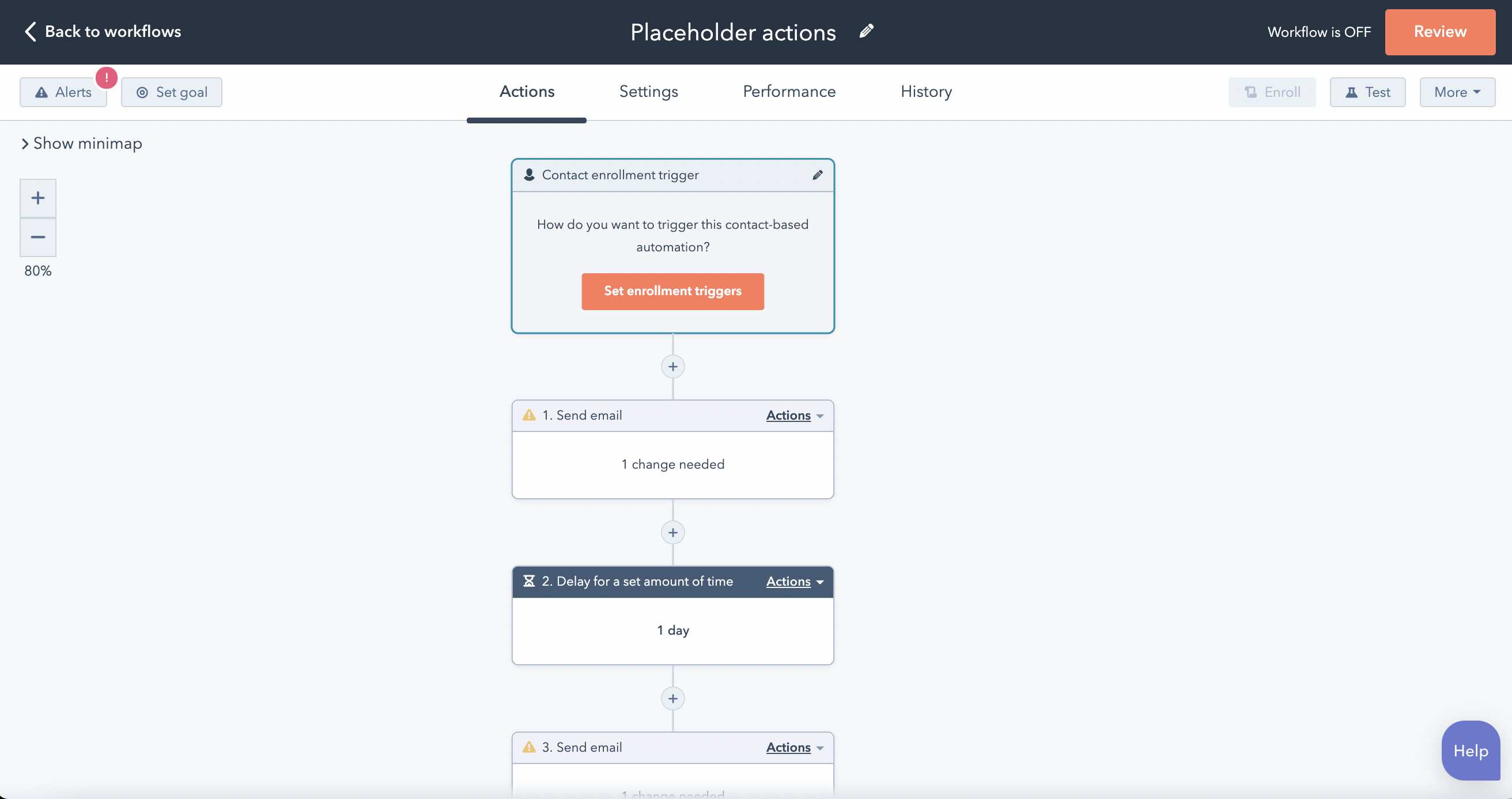 Create Translations for Subscription Types
What is it about: Translate the email subscription type names into different languages.
What are the benefits: Now you're able to create translations for the subscription types you're using. That makes it easier for your contacts to understand the email settings if they are browsing them in the Manage Subscriptions page. You can add translations in the settings page by clicking emails and then subscriptions types. Click the subscription type of your choice and then click edit. That's how you can add the primary language and other language versions.