Problem: I need to speed up my sales by finding high-quality prospects and focus my efforts on them.
Solution: HubSpot's lead scoring. You'll find the function from your HubSpot account following the path Settings > Properties > HubSpot Score.
Why use lead scoring? Your sales reps will be the first to know when a high-quality lead hits the set criteria. Automate a series of actions and utlize the information about your website visitor to show personalized web content.
To get started with lead scoring, navigate to settings and choose properties. Search for HubSpot score and start adding postive and negative attributes to your liking. Once satisfied with your sets, click "test contact". You'll be able to choose which contact from your HubSpot account you want to test against your attributes. It'll show you which criteria the selected contact meets and what his or her score would be. When you save your attributes, all contacts are re-evaluated against the criteria. You can now use your score property to segment your contacts in lists and enroll contacts in workflows.
Don't worry if your contacts aren't alike, you can create up to 25 different score properties to ensure that various parts of your business can utilize lead scoring. You can create up to a 100 attributes to your score property.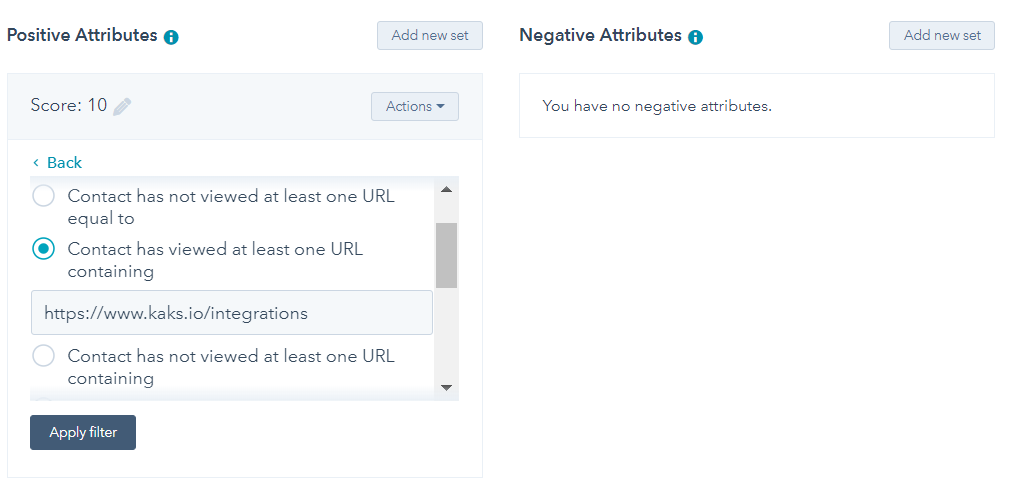 Why not create a sequence queue for a high scorer? Trigger a workflow when a high-scorer meets the right criteria. Let's say that you want to trigger a series of actions for a person that visited your blog "How to optimize your social media strategy" three times. Wouldn't this be the perfect opportunity to send them an email offering an audit of their social media strategy?
Play around with different scores and combinations to find out your perfect match! Besides using HubSpot's own criteria, you can create personalized criteria that is based on any of your HubSpot data, for example CTA clicks. HubSpot's lead scoring utilizes machine learning for predictive scoring. As you go along, machine learning ensures that your predictive scoring sharpens and gets smarter.
Lead scoring is availiable for HubSpot Marketing Hub, Sales Hub and Service Hub at levels Professional and Enterprise. Professional users can customize the default HubSpot score property. Enterprise users can use up to 25 score properties, including HubSpot score. *Source
Our Quick Tips Series is a blogseries focused on processes you can easily automate with HubSpot. We at Kaks.io Labs are strongly committed to make your success story happen and we are gladly here at your service. Leave us a message or book a meeting to find out what smart hubSpot solutions we can create for you. We'd love to catch up with you!